Christopher Lee looks back at Saturday's Champions League final and questions whether Sir Alex Ferguson's quarter century reign at Old Trafford is nearing its end.
ITV's coverage of European football seems to reach new levels of mediocrity each year. Last night for example we were treated to Harry Redknapp's typically average insights – "He's a triffic footballer that Messi. *Twitch* We tried to sign him but we were blown out the water."
And of course there is the ever consistent scripted commentary from Clive Tyldesley where it seems he needs to reach his quota of "Geraaaaaaaaaaaaaard!" and "That famous night in Barcelona" to receive his undoubtedly high pay cheque.
But credit's due where credit's due, the ITV team does have an ability to produce some iconic shots and last nights production was no different. However, perhaps strangely, the most striking image of this Champions League final was not Eric Abidal lifting the coveted trophy. It was not Lionel Messi scoring his 53rd goal this season and cementing his place in history. It was not Pep Guardiola being thrust into the air as is now customary after a cup final win. It was not even the sole beautiful woman in a crowd of 90,000 people that the camera man never fails to miss.
It was the trembling hands of a beaten old man in the dug-out. As the camera zoomed in, some may suggest it was the shakes brought on by one too many whiskies (and with my lawyers hat on it definitely wasn't this), but there was an almost sad poignancy to see a figure so used to winning suffering so badly.
After the mauling dished out by what may go down as the best side there has ever been, the final whistle saw Alex Ferguson look a broken man. He looked drained. It looked like the fire had gone out. His post match interview with Gabriel Clarke did nothing to deter this view as the interviewer pushed one question too far.
Perhaps this match simply uncovered the cracks in Fergie and his team that have been there all season? To win the title and make a Champions League final with the squad he now has highlights the biggest overachievement since Declan Donnelly managed to bed Georgie Thompson.
Viewed kindly it could be said that his misguided tactics were down to the limitations of his squad rather than his own miscalculations. However, it must be questioned why on earth he decided to pick a midfield consisting of the over-rated Park Ji Sung, the over-the-hill Giggs, and the overly shit Michael Carrick to battle it out with perhaps the best midfield there has ever been.
With the trio sitting deep, Sergio Busquets was allowed freedom to pick the passes that could then unleash the sheer brilliance of Xavi and Iniesta. United's midfield found it increasingly difficult to get close to this majestic twosome and with Lionel Messi constantly dropping off  Ferdinand and Vidic to receive the ball, the red devils were simply shown up and embarrassed.
While this tactical hiccup may be due to having to pick the best from an average collection of midfielders, the decision to start with Javier Hernandez over Dimitar Berbatov shows Fergie could finally be losing it. While Hernandez must receive great credit for an extremely successful first season in English football, his weaknesses were put firmly on show. Technically, he is very poor, with his sole trick seemingly to play off the shoulder of the last defender (cliché alert!) and attempting to spring the offside trap. This led him to being caught offside what seemed like four times in as many minutes, thus ending the rare possession United had. So when United did eventually get the ball, they needed someone to hold it up and alleviate the pressure, and with Rooney dropping deep to make up numbers in midfield, Berbatov would have been the ideal player to perform such a task.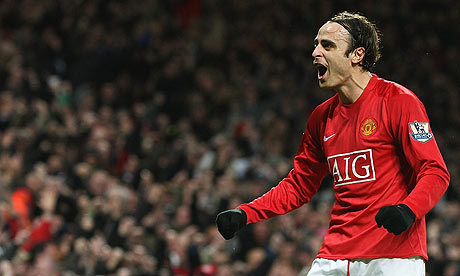 Last night's defeat may be seen in a few years as the one that eventually signalled the end of Fergie's reign. It is often quoted that he has targets that he wants to meet in his time in management and claiming the 19th title this season was one of them. The other was collecting a sixth Champions League trophy, again edging in front of Liverpool by one.
Even he must now realise the size of the task before him. With Barcelona and Real Madrid on a level above any other club side, and with the emergence of Porto, Bayern Munich, Shakhtar Donetsk, the Milans, Chelsea, and Manchester City who could all achieve European glory in years to come, a sense of perspective will have reached Ferguson on just what he has to do with his already over- reaching side.
As well as this comes yet another rebuilding of a squad. Edwin Van Der Sar has retired, and Ferdinand, Scholes and Giggs are not getting any younger. This coupled with, what I consider, the over-rated talents of Hernandez, Valencia, Nani, Park and Fletcher puts into a harsh light just what Fergie has to do.
The man who turns 70 next year looked uncharacteristically dejected come the final whistle. The resplendence of Barcelona brought about his shaking limbs, and with the onerous task that faces Manchester United in the coming years, a steady pair of hands are needed to tailor this falling team.
The Catalans last night possibly showed Fergie to have run his final race.
by Christopher Lee