Even though you are a grown man, with flecks of grey hair at the temple and a mortgage the size of Bradford (and Bingley), you bounce down the stairs in a pair of Danger Mouse pyjamas you have specially purchased for today. They are understandably a tight squeeze, and you look like Tom Hanks in Big, but that's okay. You don't intend to change until teatime when you will run into the street and impress the neighbours with some keepy-uppies.
In the kitchen your father – who you picked up from his home the previous evening and instructed him to briefly indulge you before going about his day – lowers his newspaper and peers at you. 'They don't stand a chance today our kid' he mutters gravely.
All credit to the old man. He delivers his line to perfection.
You pour out a huge bowl of Frosties – an early-morning sugar rush you haven't allowed yourself for years – and, cola cubes aside, this will be your only sustenance for several hours.
You rush excitedly towards the television, spilling some of the milk from the bowl, and turn it on. The TV is forty inches of plasma widescreen HD wonderment. It is the only concession to modern times for this dream final. After all not everything from the past was better.
You splay yourself onto the couch, like Cleopatra awaiting Anthony, in the sure knowledge that today of all days you own this couch. Indeed you actually do own it quite literally – you have the paperwork somewhere in the office – but the satisfying full-stretch and sigh of contentment comes from the cool-ass meaning. You have full possession of this couch, this remote control, and this living space, and no big sister is going to come in this Saturday morning and claim elder sibling rights (a contract that you never actually saw), and switch over to ogle New Kids On The Block on Going Live.
She can't anyway. Linda lives in the midlands now and will presently be taking your niece and nephew swimming.
After a courtesy flick through Match magazine noon finally arrives. The weatherman gives a special mention to Wembley – 'glorious hot sunshine for the football later' – and, after a brief spin of the globe, Grandstand begins.
Wait. Something's not quite right. After a moments panic the memories come flooding back. We are so habituated into believing that the BBC provides the best coverage of everything that its easy to forget sometimes that there was once a time when, whisper it, ITV was quite good.
A quick zap of the remote and Saint and Greavsie appear, wearing the most God-awful sweaters known to man. The Scotsman is barely able to speak due to the hysterical banter of his colleague who at one point whips off his sweater – the acrylic audibly fizzing as it brushes his 'tache –  to reveal a Stoke City shirt.
'Up the potteries' he exclaims, prompting a surprised St John to nearly hyperventilate with laughter.
Then it's over to Wembley Way where young reporter Jim Rosenthial is joined by Jimmy Tarbuck (under the mistaken belief that it's an all-Merseyside final), Suzanne Danielle and Lofty from Eastenders. It soon becomes apparent that Danielle knows little about football but finds Gareth Barry quite attractive – 'He's got the clean-cut good looks of an old fashioned film star' she gushes.
You imagine her husband Sam Torrance watching at home, growling with jealousy.
Soon after comes the first genuine heart flutter. Shots come in of the players leaving their Hertfordshire hotel, tracksuited and carrying their own luggage.
For some strange reason this brief tableau – the hotel courtyard, the team coach with its sleek modern lines and the exaggerated curve of the wing-mirrors, the fronds of the incongruous palm trees in the foreground, and a group of footballers queueing to board the coach, attempting to look relaxed but appearing visibly pensive – finally brings it home to you that its truly here. Cup final day!
Then its straight back to the studio where Greavsie is making puns about Delap's throwing arms – 'I think he was my bar man for a number of years down the Nag's Head. That's how he got them so strong, from pulling all those pints'. St John has tears trickling down his face.
The next hour is a joyous combination of celebrity interviews outside the stadium (including the obligatory serious thespian attending his first ever game but claiming to have always loved the 'drama' of the occasion), helicopter coverage of the two coaches as they snake their way through London traffic and, best of all, a reporter on the coaches themselves asking each player how they feel.
The reporter gamely moves up and down the cramped confines of the aisle asking several of the foreign players what the F.A Cup means to them and receives the same polite white fib from every one of them – how the player's entire home town sat down together and watched Lawrie Sanchez nod the ball over a flailing Grobbelaar in '88.
When its Yaya Toure's turn, the shaky camera hovering above him, Carlos Tevez uses the opportunity to bluff him off the pot as they play three-card rummy.
Soon after the iconic outline of Wembley – the Twin Towers Wembley for this is the dream final – comes into view through one of the windows. Adam Johnson can be seen lowering his over-sized headphones and taking it all in.
You switch over to the Beeb as kick-off beckons. Now is the time for John Motson, the smooth charms of Des Lynam, and yes even Jimmy Hill.
They're showing the pre-match charity kick-about taking place on the Wembley turf and featuring an array of b-list celebs and sports stars who are basically the precursor to the modern line-up of Strictly Come Dancing. Snooker star Tony Meo scores a thirty-yard screamer – keeper Stuart Adamson from Big Country barely moves – and Meo later claims it's the greatest achievement of his life. No-one disagrees.
Following some lively punditry between Hill and a combative, and clearly pissed-up, Cloughie the scene is set for the players to walk from the tunnel.
Earlier, as they ambled awkwardly around in their suits, they were, to a man, wearing expensive sunglasses. Now the dazzling May sun blinds them as both teams troop out, led by their respective managers. They seek out relatives in the packed crowd, shielding their eyes with hands that then wave as they recognize wives or girlfriends. Or both.
Abide With Me is played by a bunch of guys who probably need to get laid more often, rather than polish their flugelhorn, and the sacred and stirring prayer is sung lustily by both sets of supporters, who have already warmed their collective pipes up with heartfelt renditions of their own hymns, Delilah and Blue Moon.
There is not a Russell Watson or Katherine Jenkins in sight, pulling their daft expressions as if they've just been cured of lockjaw, and butchering a perfectly decent tune by showing off their vocal range and, with the aid of a powerful sound system, drowning out the crowd.
The teams dutifully line-up as they prepare to meet the dignitaries. Except this is the dream final so there are none. No minor royal or unpopular prime minister, who can't understand why someone doesn't just pick the ball up and run with it. Instead an elderly supporter from each club walks out proudly to deliver a short profound pep talk to each player, meeting each gaze and gripping each outstretched hand firmly as they walk along the line.
The roar is near-deafening as the referee finally puts the whistle to his lips and the match begins.
1st Minute – Just like in the 1997 Cup Final between Chelsea and Middlesbrough there is a goal almost immediately. After just forty-two seconds in fact. And, like Di Matteo's strike, it is a long-range dipper that almost breaks the net.
We'll give this one to Stoke because straight away it forces City to unleash their attacking options and opens up the game. If City were to take an early lead they would inevitably tighten up the midfield, sit deeper and deeper, and be subjected to eighty-nine minutes of heavy bombardment from the Potter's artillery. Now though we have a real game on our hands.
Stoke 1 – Man City 0
14th minute – Harsh but every final needs a disgruntled keeper. From Watford's Steve Sherwood feeling he was unfairly impeded in '84, to United's Ray Wood being physically assaulted in '57, right through to Bruce Grobbelaar's comical rant at McManaman in '92. We don't wish to see any injustice in this final so we're plumping for the latter.
Joe Hart launches a furious tirade at his left-back Kolorov as City struggle to gain any foothold in the game.
38th minute – The big occasions are made for heroes. But far more hilarious and entertaining are the wannabe heroes who just don't quite fit the mould. In 1986 Ian Rush rounded Bobby Mimms to equalise for Liverpool against their arch foes from across Stanley Park. Except that wasn't the whole story of the goal. With absolutely no danger of it being cleared, and the ball virtually over the line, in swooped shameless glory hunter Craig Johnson in a bid to claim it with a desperate lunge.
Thankfully the goal was rightfully credited to Rush who had done all the hard work. If it hadn't…..and Johnson had been offside…it would have possibly been the funniest moment the twin towers had ever witnessed.
Stoke's Etherington, who only passed a fitness test just prior to the game, rounds Hart and slots it away for their second. Kenwyne Jones slides in to no avail.
Stoke 2 – Man City 0
Half-Time – You raise yourself from the couch for the first time in hours and head back into the kitchen. There you make a cherry soda-stream which you bought recently from e-bay for this very occasion and time. You have not tasted one in perhaps thirty years.
Briefly you consider going out into the yard for a kick-about against the wall. Until you remember the pyjamas.
56th minute – City have come out much stronger in the second period and already there has been a handful of missed opportunities. They're now pressing further up the park and the ball is regularly breaking for Toure, Silva and Balotelli who are combining well. Speaking of Silva the diminutive Spanish magician receives the ball wide on the City left. He reaches the edge of the box unhindered before jinking to his left, past one, then two, before adjusting his body shape and cutting back inside. As Begovic rushes out to block the angles he slides the ball beneath the keeper's body. It is an exact replica of Ricky Villa's mazy wondergoal in '81. We said this final contained no injustice. We never said anything about poetic justice.
Stoke 2 – Man City 1
63rd minute – The game has now become a tense but thrilling classic. Numerous chances go begging for both sides. Just past the hour mark the Stoke right-back punts the ball out to an unmarked Etherington who is sprinting into the City box. The winger flings himself at the ball, connecting fully with a superb diving header. It is, for all the world, heading for the far right corner of the net. Until Hart somehow manages to throw himself across and paw it away….right into the path of Jermaine Pennant. Pennant instinctively sweeps at the ball and redirects in goal-wards. Amazingly, incredibly, the agile Hart recovers in time to hurl his body towards it. The ball bounces off his elbow, up onto the crossbar, and is eventually launched away to safety.
It is a truly astounding piece of heroics not seen at Wembley since….well, Jim Montgomery in 1973.
Even in the countless slow-motion replays it is hard to decipher exactly how the young England stopper managed to pull off such a feat which keeps City still firmly in the game.
71st minute – Now it's the blues' turn for a spectacular diving header and this one is put away. Like Keith Houchen's in '87 the ball is played out wide to Adam Johnson – who has just come on as a substitute – who curls a teasing cross into the box. Another of their recent subs, Edin Dzeko, maligned of late for struggling to settle in English football, throws himself forward and connects sweetly, sending the ball past the hapless arm of Begovic.
Stoke 2 – Man City 2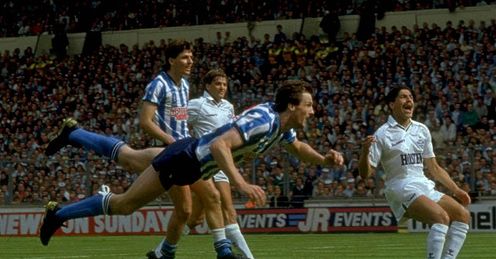 72nd minute – The burly Bosnian runs back towards the centre-circle and realises there are no team-mates around to celebrate with him. Instead, like Charlie George's iconic pose in '71, he falls onto his back. His arms out wide like a resting Christ.
80th minute – No matter how entertaining the football. No matter how tense the drama. Every great occasion needs the spice of controversy. So it proves here with a late sending off for Stoke centre-back Ryan Shawcross. Like Kevin Moran's in '85 there is little dispute over the decision from a neutrals point of view; the young Englishman runs across as Toure breaks through a gaping hole in the Stoke backline and clinically scythes him down. Pulis however is incandescent with rage and is banished to the stands for throwing his baseball cap at the fourth official.
89th minute – The FA Cup Final has a legacy for producing unlikely heroes. Bobby Stokes in '76 went from obscurity to his name being emblazoned across the back page of every newspaper in the western hemisphere with a single drive of his left foot. Brooking in '80 (not so much the scorer but with his head!). Lee Martin, of all people, saving Ferguson's hide in 1990.
As the minutes ebb away on an enthralling, exhilarating encounter the Stoke lads are getting noticeably weary. The ball is lofted into their box and a tired leg half-clears into the path of Kompany. The Belguim has been imperious for City all season but has thus far failed to get on the scoresheet. From thirty yards out, in a strike reminiscent of Gerrard's against the Hammers in 2006, he swings a cramped right foot through the ball and sees it whistle snugly into the corner of the net.
There is uncontained euphoria from the City end as thousands of blues go ape-shit. The whole team jubilantly mob their captain whilst the Stoke players crumble dejectedly to the ground, their brave fight over.
Two minutes of uneventful injury time is played out before the ref signals the start of chaotic ecstasy from one half of the stadium.
Stoke 2 – Man City 3
The after-match celebrations – The club's long draught without a trophy is symbolically ended by Pablo Zabaleta guzzling champagne thirstily from the cup itself whilst someone, inevitably, finds it amusing to pretend the lid is a hat as the player's relish every second of their lap of honour. Balotelli is discreetly steered away from the fast-deserting Stoke end as they pass.
You watch all this until the news comes on and jolts you momentarily back to reality. Now was the time you intended to get out of your pyjamas, the ones you wore as a small child, watching agape at other team's triumphs, vicariously revelling in the glory. And dreaming that one day it would be your side on that sacred turf, holding aloft the famous trophy. You remember your intention to continue your dream final with a game of footy outside in the street. Pretending to be the goalscorer as the ball pounded against the front gates. Mimicking the celebration.
Instead you do indeed head upstairs to change. Back into your normal adult clothes and your normal adult life. On your return you root in the hallway cupboard until you find a tattered matchday programme from the early eighties. It was your first ever game.
You think back to your granddad, holding your small hand, guiding you through the throng of limbs to a safe spot at the front of the Kippax. And you cry. Right there in the hallway you cry.
But they are not solemn tears. There's not a trace of sadness or bitterness within them. For your mouth is laughing, loud and long, like Ian St John at a piss-poor Greavsie joke.
(COME ON CITY!!!)