It's not like West Ham, Blackpool and Birmingham haven't already suffered enough. The heartache of relegation; the prospect of facing Donny Rovers on a wet Wednesday evening next season; financial uncertainties. These depressing facts will be hitting home hard right about now.
Yet barely will they have chance to regroup and digest such grim realities before they must endure a further trauma – the inevitable sound of the vultures circling overhead, hungrily eyeing the fresh carcasses. Even more disheartening it will often be the very same clubs they spent months battling to avoid the drop with who will capitalise on their misfortune.
Each squad is poor – proven by their lowly finish – yet all three sides contain a few choice cuts of fresh, cheap quality meat.
The likes of Sunderland, Blackburn, Wolves, and Fulham are already drooling at the mere thought. That's if vultures drool. Which they probably don't.
WEST HAM
Rob Green – Much-maligned and even derided in some quarters Green remains a top-level stopper. The last time the Hammers dropped they managed to retain their international keeper – David James – for half a season. Don't expect even that degree of loyalty to occur here.
Scott Parker – Their heartbeat. When Arsenal or Spurs eventually pounce the bow bells will lay silent for one day to signify the official passing of the club.
Carlton Cole – Stoke has reportedly already stated an interest in the burly frontman. No surprise there. Not been anywhere near his best this term – in fact Cole has made more headlines from his tweeting – but will still attract a number of keen suitors.
His leaving could be catastrophic for the Hammers as he would have surely terrorised the Championship and bagged the goals to claim a swift return to the top-flight.
BLACKPOOL
DJ Campbell – Has now proven himself at the highest level after a hit-and-miss spell with Brum. Would presumably be extremely reluctant to drop back down to the lower echelons after spending so long trying to escape to the big time.
David Vaughan – This Welsh international is one of the most under-rated grafters around. Does his job quietly and without fuss and would be a sensible addition for any mid-table side next term. The fact that he's out of contract only increases his attraction.
Charlie Adam – Expect a bidding war to resume around about……now.
BIRMINGHAM
Ben Foster – Commendably rebuilt his reputation after his United dream turned sour. Would the recently retired England international want to spend time in the relative obscurity of the Championship and temporarily put a halt to his rehabilitation? Doubtful.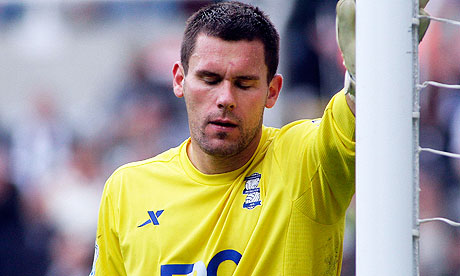 Roger Johnson – Centre-backs such as Johnson don't deserve the blot of relegation on their C.V. As solid and dependable as they come.
Seb Larsson – The talented Swede was seeking pastures new back in January. An almost definite departure from St Andrews beckons with Sunderland already said to be interested.